Bolstering Our Subscription Expertise With A Strategic Partnership
Subscription Factory has teamed up with our friends at rb2 to create a new brand – GoRecurring.
We've got years of experience giving companies advice and guidance on how to make subscription services work. At the same time, rb2 has been delivering the technical side of things for even longer.
Between the two of us, we know we've created something rather special – something that can not only benefit you but our existing customers as well.
What is GoRecurring?
GoRecurring is a new brand: a strategic partnership between rb2 and Subscription Factory. It's essentially a platform where anyone or any business can find lots of information, inspiration, use cases, help, and awesome insights on the power and opportunities offered by subscription business models.
Why Now?
For over 10 years we've been helping businesses from a variety of sectors, transform their business using subscription service models and recurring billing. It's a product offering that we have believed in from day one and is used by almost every consumer – across streaming services, food deliveries, or software platforms.
What we do best is use our experience and expertise to offer strategic thinking, project management of subscription rollouts, and guidance that we draw from all the other customers we've worked with in the past.
Businesses out there have truly woken up to the power of subscriptions and that's why we're working with rb2 to develop GoRecurring. We want any business to have access to the best resources available so they can start their subscription journey whenever they want.
Sign Up For Our Free Event! 
As part of the GoRecurring launch, we're running a two-hour online event on the 3rd of November, giving you the latest industry insights into all things subscription services. It's called GoRecurring 2022, and it'll be a virtual event quite unlike anything you've seen before.
To apply for free tickets to GoRecurring 2022 click here or to dig into some of the GoRecurring resources head here.
If you're ready to change your business model to a subscription-based model then GoRecurring is the perfect place to start your journey.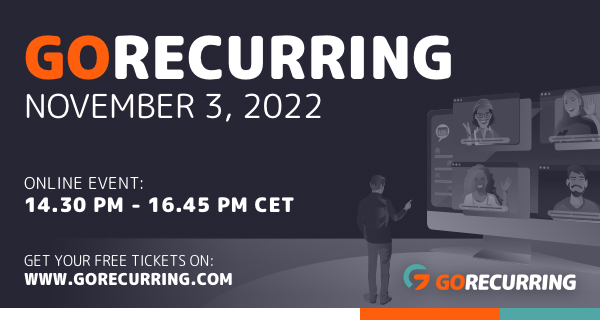 Would you like to know more and discover the potential within your business?
  Feel free to contact Timo Zuidgeest
Subscribe to our newsletter
Stay updated with the latest industry news and get invited to webinars.